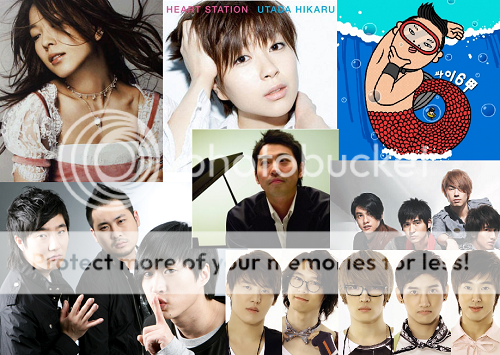 This is a continuation of my playlist. And once again, it's a mixture of songs in Korean, Japanese, and Taiwanese. And they range from really old songs to more recent ones this time as well. Enjoy!
11. Infinite - In The Summer
This is my new favorite song. And I can't believe I just discovered it a few weeks ago. In The Summer is from Infinite's Infinitize album. It reminds me of Nothing's Over which I also loved very much. I think it's really relaxing and puts me in a vacation mood.
12. Fly To The Sky - Missing You
This song is from FTTS's 2003 album of the same name. K.Will actually sang an English version of this song back in 2004 and it's just as wonderful. I recommend you check out more Fly to the Sky songs, especially if you're into RnB.
13. 10CM - Americano
10CM is an artist I'm not familiar with but my sister played this song in the car and I fell in love with it. I'm sure she must have learned of them through EatYourKimchi since 10CM is an Indie band. It also reminds me of the Super Power episode from Running Man where Gary says "A-me-ri-ke-no." It's another mellow song.
14. Thelma Aoyama - Fall In Love [featuring Taeyang]
Fall In Love is from 2010, like Americano. For me, I think the chorus of this song is really powerful and catchy. It gives me goosebumps every time I listen to it.
15. Big Bang - Remember
This song is from Big Bang Vol. 2: Remember, the only Big Bang album I own. And I believe they made an English version on their Japanese album. This is one of those songs that is Big Bang's style but if you've only listened to their recent songs, you won't agree. This really reminds me of their old songs like Last Farewell.
16. G.O.D. - Lies
This is my favorite G.O.D song. I was actually introduced to this song by Wonder Girls. Since G.O.D. was under JYP, Wonder Girls once did a medley of their songs as did 2AM. On top of that, during the JYP Nation Teamplay Concert, Sunye, Yubin, and Yeeun performed this song with original members Kim Taewoo and Son Hoyoung. Lies is from their 3rd album of the same name.
17. Bang Yong Guk - I Remember
This was originally Bang Yongguk's first solo song, featuring Yoseob of B2ST, before he debuted with BAP. The new version with Daehyun is from their Crash Repackaged album. For a rookie, I think Daehyun's voice is more powerful than many of his sunbaes.
18. Fahrenheit - Chao Xi Huan Ni [Really Like You]
Here's a more upbeat song for the list. This was used as an OST for the Taiwanese version of Hana Kimi starring 2 members of the group, Jiro and Wu Chun.
19. Se7en - When I Can't Sing
This song has some history behind it. The song is actually by JYP even though Se7en is part of YG. It even has the signature whisper at the beginning. Turns out Se7en actually requested urged JYP to give this song to him. And I absolutely loved it from the moment I heard the first teaser. The song was also used in a key scene in Dream High 2. And it turns out that Se7en is pretty close to the Wonder Girls members as well since they're always tweeting to each other. JYG for the win!
20. Yiruma - River Flows in You
This is a song that you will end up loving regardless of whether or not you listen to classical music. Music without words really makes you realize how wonderful instruments are. Another fun fact for the time being is that Yiruma and Nichkhun [2PM] talk to each other on twitter as well.