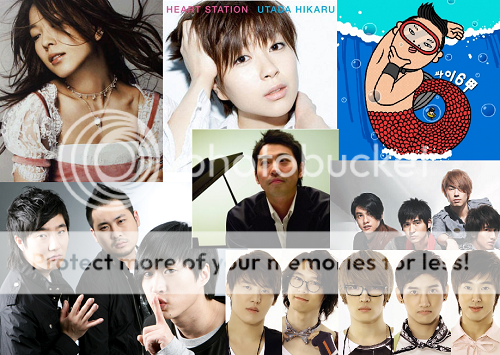 Here is the 4th installment of my playlist. I hope you all like my choices and are able to expand your horizons into different genres and other Asian languages. Enjoy!
31. DBSK - Why Did I Fall in Love With You
One of the most beautiful songs I have ever heard. I usually don't keep up with Kpop artists' activities in Japan, but Tohoshinki was always an exception. The first time I heard it, I was so impressed with their Japanese and no matter how hard I tried, I could never imitate them. Also, the MV for this always reminds me of Taeyang's Wedding Dress, since it follows the Proposal Daisakusen story-line. The guy in the music video reminds me of Lee Jun Ki, whereas the girl reminds me of Han Ga In.
32. Lexy - Novice [featuring PSY]
Here is my favorite song from recently returned solo artist Lexy. I got introduced to not only this song, but the singer herself through Wonder Girls because Yubin and Sunye had a special stage where they performed it and Sunmi sang it on a radio show before. The song is really catchy and shows the YG style that suited her well. I think Lexy was the Hip Hop version of Lee Hyori.
33. Tablo - Bad [featuring Jinshil]
When I first heard this song, it came on as a little strong. Even the MV scared me off a little in the beginning. Regardless, the chorus always got stuck in my head. And now that I think about it, it reminds me of Epik High's other songs such as Love Love Love and One.
34. Lee Hyun - You Are the Best of My Life
I only started listening to Lee Hyun last year and I fell in love with this song as soon as it came out. Not only that, but the MV and the song fit so perfectly together that even without the English subs, I could understand what was going on. I really admire Lee Hyun's voice. And Changmin's special appearance is just the cherry on top in this music video. I couldn't stop laughing for a while. And I remember on an episode of Immortal Song, they revealed that Lee Hyun always asks for kiss scenes in his music videos.
35. Fahrenheit - Only Have Feelings For You [Featuring Hebe of S.H.E.]
Along with the music video, this song is cute too. The sound is probably very different from what Kpop sounds like but it is still enjoyable.
36. 2PM - I was Crazy About You
This is one of the more powerful songs from 2PM's 1:59 album. Honestly, during this time I believe everyone was connecting the theme of all the songs on the album to Jay's leaving. I really like the opening and rap for this song.
37. Zhang Li Yin - Timeless
For a song that I don't listen to often, this song gets stuck in my head quite often. I'm not too familiar with Zhang Li Yin because I had only listened to this song because of Junsu and watched the MV for Hankyung and Siwon. Don't get me wrong though, after I heard it, I loved the song. There is actually 2 parts to the mv and the video below has both parts.
38. K. Will - Please Don't
I'm not even going to say anything about this MV except that you have to watch it to the end. And brace yourself for some shock and laughter. Now for the song, I have no words to describe it. I love the music, the lyrics and K.Will's voice. Overall, it's a beautiful song. Dasom and Seo In Guk show exceptional acting in the mv along with their good-looking friend. The storyline seems to parody Reply 1997.
39. Miss A - I Don't Need A Man
I just had to add Miss A's latest song. Besides giving off the independent woman feeling, they also showed a new style through this that isn't like anything we've heard from them before. And, personally, I loved it.
40. Ailee - Heaven
First of all, I don't know if it was intentional for the guy in here to look like Jesus, but it worked out perfectly. The MV was really sweet as well and I didn't realize what was going on until Kikwang finally appeared. For a debut song, i was really impressed with Ailee. I was familiar with her before her debut because of her performance of Anybody [Wonder Girls] with Clara Chung, Decipher, and others at Rutgers University.
How many of these catchy songs did you already like before reading this?